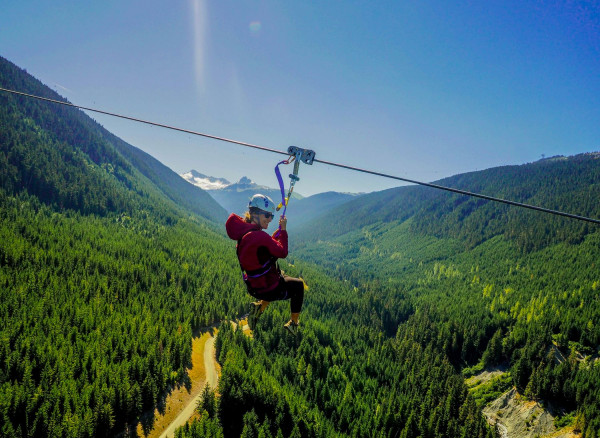 Activity-In-Focus (AIF): Guide to Zip-Lining in Whistler
People travel to Whistler in the summer time to experience nature and celebrate the mountain's natural beauty. Whether it's hiking, horseback riding, or kayaking, Whistler has a plethora of summer activities that you and your friends can enjoy. One often overlooked summer activity in Whistler is zip-lining. Most travellers have the famous Peak-2-Peak Gondola first on their travel list when in-fact with zip-lining you can experience Whistler's breathtaking landscape while flying exhilaratingly down a cable.
Talk about 'breathtaking' in more ways than one.
To all our Sklynx Whistler Explorers, this is a simple guide to zip-lining in Whistler where we will detail two of the most popular zip-line providers around Whistler Village.
Ziptrek Ecotours
Established in 2001, Ziptrek Ecotours has garnered multiple awards for their excellent zipline adventure tours and commitment to sustainable eco-development. They are located directly above Whistler Village with their primary booking office conveniently stationed at Carelton Lodge. One of the most celebrated zip-line tours offered by Ziptrek Ecotours is 'The Sasquatch Tour.' It's the longest zipline in North America spanning over 2 kilometers or 7000 feet, with a drop-height of 1,600 feet at the launch!
The Sasquatch Tour is priced at $129.00 CAD for Adults (13+) and $109 for Children (10-12). Ziptrek is open of business currently and have Covid-19 safety protocols in place for their customers.
Company Website: https://whistler.ziptrek.com/
Superfly Ziplines
Superfly Ziplines is another hotspot for Whistler adventurers year-round. Located at Cougar Mountain just 10 minutes drive from Whistler Village, Superfly Ziplines offers one epic zipline tour to its customers. The tour lasts 3 hours and showcases 2 of Canada's longest ziplines at over 1 kilometer in length, 600 feet in height, and speeds up to 100 kilometers per hour.
Superfly Zipline Tour will set you back $154.99 CAD for Adults and $104.99 CAD for Children (12 years & under). Be sure to take advantage of Superfly's Early-Bird Pricing at $124.99 CAD for Adults and $104.99 CAD for Children when booked for 9:00 am time slots. Superfly Zipline Tours has Covid-19 safety procedures in place for all guests.
Company Website:
Don't wait! Book YVR Skylynx today and travel up to Whistler in speed and comfort to zip-line and experience Whistler's breathtaking scenery and nature today!