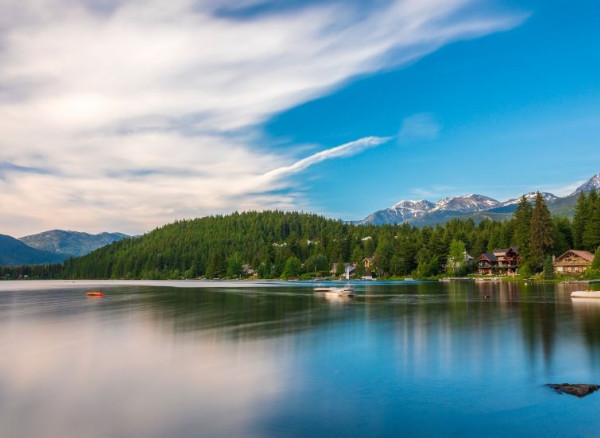 Beat the Heat with Water in Whistler and YVR Skylynx!
Environment Canada issues several heat warnings as a record-setting heat wave broke 13 records in several municipalities across British Columbia including Metro-Vancouver as the temperature rose to 35 degrees celsius (~ 95 degrees Fahrenheit) this past weekend. The heat will remain in effect for a couple of days and the best remedy to these sunny and scorching temperatures is to spend some time in water in Whistler.
Exploring shorelines and wading through Alta Lake in Whistler provides an authentic and natural experience for you and your family all the while taking advantage of this summer sunshine and cooling off from this sizzling heat. Here are just a few activities that you can do while experiencing Whistler's natural water wonder - Alta Lake:
Kayaking
'Alta Lake is a large lake that stretches between Creekside and the Village with several parks' in the vicinity. This large area of water and beautiful park makes it an ideal destination for family and friends that want to camp out in the park for a beautiful view right in front of the lake. The lake also makes it a perfect place to enjoy watersports with one of the most popular being kayaking. The best part is there are a plethora of equipment you can rent at Alta Lake with choices including kayaks, paddleboards, canoes and pedal boats.
Park Life
Rainbow Park is a popular hotspot located on the west side of Whistler Valley in Alta Lake. For biking enthusiasts, there is a serene 20-minute bike ride along the famous Valley Trail just a stone's throw from the Village near Alta Lake Road. Rainbow Park has a sandy beach wih shallow waters that is perfect for dogs and your little ones. The park also features outdoor bbq pits and picnic tables so all you have to do is bring the food! Beach volleyball courts are setup for volleyball fans and the docks are just steps away for avid Sailors of the group.
WIth all these excellent water recreations waiting for you and your friends at Alta Lake in Whistler - What are you waiting for? Book your next trip from Vancouver to Whistler today with YVR Skylynx and get to Whistler with your family and friends quickly and comfortably in safe socially-distanced coaches.