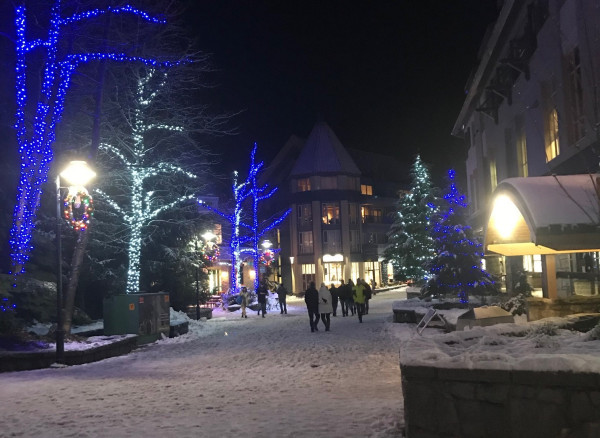 The Top Five Holiday Events happening in Whistler
The Christmas season has officially arrived, which means you're probably looking forward to some quality skiing and snowboarding, cuddling up to a warm fireplace afterwards with a big cup of hot chocolate. That's the beauty of this time of year, coupled with the excitement and anticipation for Christmas.
If you're thinking of making a quick trip to Whistler before the big day, or you have a holiday already planned for this winter wonderland, here is our pick for the top 5 holiday events happening in Whistler this 2018 holiday season:
The Village Stroll Lights:




Stroll down Main Street at night, with a hot chocolate or tea in hand, and gaze up at the gorgeous display of lights, craftily strung and hung throughout the town center. Along the way, you'll pass an ice skating rink that is free to use and perfect for families of all sizes. It's also a perfect secluded romantic getaway for you and your sweetheart to take in the beauty of the lights against the snow's surface.
Real Sleigh Rides:




Whistler is where Christmas carols come to life, enabling you to book your own "open horse open sleigh ride" on Blackcomb Mountain. This personalized 50-minute tour comes with stunning views of Whistler Village below, making stops at a cozy cabin so you can warm up with some hot chocolate along the way. As arguably the most popular Christmas activity in Whistler, we urge you to make reservations as soon as possible.
The Fire and Ice Show:


If you're in the mood for something more daring and dangerous, fireworks, fire spinners, and daredevil athletes jump through rings of fire every Sunday at the Whistler Village Base. There will also be a special demonstration on New Year's Eve for those who elect to stay through Christmas.
Introductory to Backcountry Skiing:


If you're thinking about venturing into the Whistler backcountry, skiing through unchartered terrain that is pristinely gorgeous, you can sign up with Avalanche Skills Training or an Introductory to Backcountry course to get to know the ropes. Guided tours are also available for those wishing to explore the backcountry without skiing it.
Made in Whistler Artisan Holiday Market:


As part of the Christmas spirit, it only makes sense to buy some locally made artisan presents during your stay in Whistler. The Made in Whistler Artisan Holiday Market takes place at the Westin Resort & Spa on December 15, 22, 23, 29, and 30th. Artisans from around the country travel to showcase their wares, so it's not something you're going to want to pass up!
Of course, it goes without saying that while staying in Whistler this month, be sure to explore the variety of ski mountains and runs, varying in difficulty levels so skiers and snowboarders of all ages can safely enjoy the fun.
Add Whistler to your Christmas tour this 2018 holiday season!