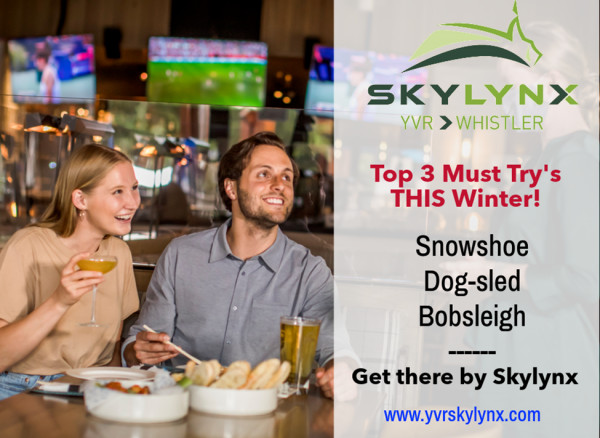 Top 3 Things Do in Whistler This Winter!
Take YVR Skylynx to get there 🚌
Experience winter right this 2021 season shredding soft, fresh powder down an exhilarating mountain run at the largest ski resort in North America - Whistler. With over 200 runs and a world-renowned Terrain Park that features 99 rails, 20 jumps and an 18' half-pipe, Whistler is the place to be.
Besides being a celebrated paradise for avid skiers and snowboarders, Whistler offers other fun activities for everyone in the family. Here are the top 3 other things to do in Whistler this winter as voted by your local YVR Skylynx Team:
1. Snowshoeing
One of the best kept secrets of Whistler and my main reason for visiting Whistler with my family every single year. Snowshoeing requires no prior skill nor experience and is the perfect winter activity that is fun for all members of the family. There are countless trails to choose from that range in difficulty from beginner to expert! My personal favorite is to snowshoe to frozen waterfalls in Whistler for a breathtaking photograph.
2. Dog-Sledding
Imagine getting whisked away on a sled led by a team of adorable winter dogs amidst the winter wilderness of Whistler mountain. A light winter breeze blows against your face while you navigate the snowy terrain trails with your pack of trusty snow dogs as you take-in all the natural winter scenery of Whistler. Be sure to check out this memorable dog-sled experience with everyones best friend' in Whistler today!
3. Bobsleigh an Olympic Race Track!
Experience what it feels like to be a true Olympian by booking a passenger bobsleigh ride down the racing track used during the 2010 Vancouver Winter Olympics in Whistler. The Whistler Bobsleigh track is the only track in Canada open to the public. With speeds going-up to 125 km per hour, this exhilarating bobsleigh ride is truly going to give you the ride-of-a-lifetime!
Well there you have it - the Skylynx top 3 unique and fun things to do in Whistler this winter.
And as always, please choose YVR Skylynx to make sure you get there safely, on-time and at the best price.
Visit: www.yvrskylynx.com
Call: +1 (604) 326-1616
Email: info@yvrskylynx.com
--
Cover image by Tourism Whistler/Justa Jeskova