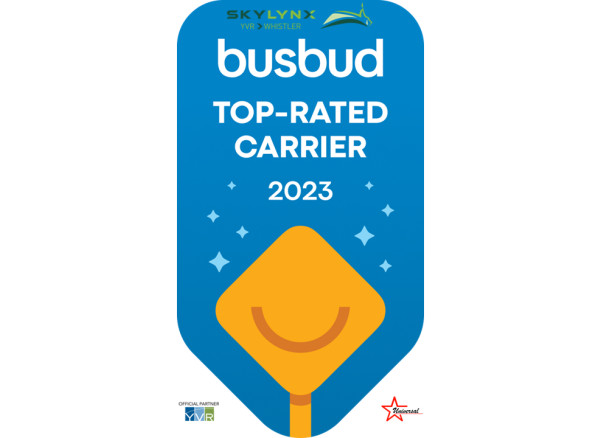 YVR Skylynx Awarded 2023 Top-Rated Carrier on Busbud!
YVR Skylynx Honored as Top-Rated Bus Carrier on Busbud's Prestigious Platform
Vancouver, British Columbia - June 1st, 2023 – YVR Skylynx, the leading transportation provider connecting Vancouver and Whistler, is proud to announce that its premier Whistler bus service has been awarded the prestigious Top-Rated Bus Carrier recognition on Busbud, a renowned global bus ticketing platform.
Busbud's Top-Rated Bus Carrier award signifies YVR Skylynx's unwavering commitment to excellence, outstanding service, and unparalleled customer satisfaction. This achievement highlights the exceptional efforts of the entire YVR Skylynx team in providing a seamless and enjoyable travel experience for passengers journeying between Vancouver and Whistler.
With its modern motorcoach bus fleet, comfortable seating, and dedicated onboard amenities, YVR Skylynx has consistently raised the bar in the transportation industry. The premier Whistler bus service offers passengers breathtaking views of the scenic Sea-to-Sky Highway while ensuring their safety, convenience, and comfort throughout the journey.
"We are thrilled to be recognized as the Top-Rated Bus Carrier on Busbud," said Lindsay Moir, Vice-President at YVR Skylynx. "This accolade is a testament to our unwavering dedication to delivering exceptional service and unforgettable travel experiences. We would like to extend our heartfelt gratitude to our passengers for their trust and support, as well as our committed team members who consistently go above and beyond to exceed expectations."
The recognition as the Top-Rated Bus Carrier on Busbud further solidifies YVR Skylynx's position as the preferred choice for passengers seeking reliable and efficient transportation between Vancouver and Whistler. As the recipient of this prestigious award, YVR Skylynx continues to strive for excellence within the transportation industry.
For more information about YVR Skylynx and its premier Whistler bus service, please visit www.yvrskylynx.com or email info@yvrskylynx.com.
About YVR Skylynx:
YVR Skylynx is a leading transportation provider offering convenient and reliable connections between Vancouver and Whistler. With its exceptional service and state-of-the-art fleet, YVR Skylynx aims to provide passengers with unforgettable travel experiences.
Visit: www.yvrskylynx.com
Call: +1-604-326-1616
Email: info@yvrskylynx.com